Welcome to Weston Primary Montessori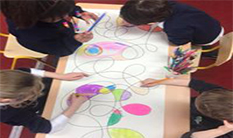 Our wonderful Montessori school comprises of a Primary and a Pre-school which are both co-educational and multi-denominational. We are the only Leixlip Primary school teaching the standard primary curriculum through the Montessori method. Our Pre-school offers ECCE morning places covering the areas of Leixlip, Celbridge and Maynooth in North Kildare along with Lucan in Co. Dublin. We aim to help all the children achieve their full potential at their own pace in a caring environment. You are very welcome to come and view our school. Please call us and we can arrange an appointment that is suitable for you.
Weston Primary Montessori School was formed in July 2016 by the teachers and parents of the former Glebe Primary Montessori School which was established in 1978. We are one of the few Montessori primary schools in Ireland and use the philosophy and teaching practices of Dr. Maria Montessori.
Our students hail from many different cultural backgrounds. Our past students have gone on to transition very smoothly into state secondary schools and believe their skill of self-motivated learning has helped them to be successful in state exams. We teach children between 3 and 12 years of age, with class ratios of 16 pupils to 1 Teacher. We also employ highly qualified and experienced teachers with a specific qualification in Montessori Teaching. Weston Primary Montessori has been assessed and approved by the National Education Welfare Board, in association with the Department of Education and Science.
Weston Primary Montessori School is ideally located within a short commute from major town centres in North Kildare and West Dublin. We are located in a quiet enclosed location next to the beautiful grounds of Castletown House and are a stone's throw away from the renowned Barnhall Rugby Club. We have ample parking and green areas on our grounds affording a nice and relaxed drop off and pick up for your children and time for them to have some afterschool play with friends while you catch up other parents or your child's teacher. Our location is away from congested traffic routes providing a convenient and stress free travel to school.